Narrative on Rajasthan's 1st Registrar and Transfer Agent Service Provider; SAG RTA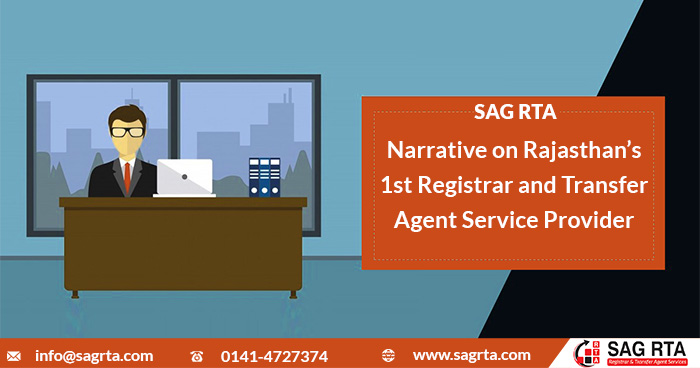 SAG RTA - an innovation by SAG Infotech is one of Rajasthan's leading Registrar and Transfer Agent Services which is going the extra mile to serve its potential clients.
RTAs are SEBI authorized services that are meant to cater to the clients associated with Mutual Funds.
Basically, RTAs client pool includes potential investors, who are looking for sound investment opportunities in the market and secondly the mutual fund houses who render those investment opportunities to the investors.
They act as intermediaries between the two parties (investors and mutual fund house) everything from a share issuing, bonus issue, preferential allotment to recording share buying/selling/switching or any other data related to corporative activities happens under the supervision and guidance of RTAs.
Eligibility to become RTA Service providers
1. RTA service providers are certified by SEBI to conduct RTA services in India.
2. Organizations are listed in two major depositories (NSDL and CDSL) as authorized RTA service providers.
SAG Infotech Pvt Ltd - SAG RTAs Parent Company
SAG RTA is an accomplishment of SAG Infotech Private Limited, which is already a renowned name in the tax industry. Consistently serving its clients for more than 2 decades, the company builds efficient accounting and tax compliance software to help CA, CS and HR professionals achieve their targets. Some of the company's best works include Genius, Gen GST, Gen IT, Gen Payroll, Gen XBRL which are widely utilized in tax and management industries.
But we are not stopping here, after excellence in the tax industry, SAG Infotech is entering into the new role of RTA services. As it is Rajasthan's 1st RTA agency which is certified by SEBI to perform Registrar & Transfer Agent Services. The entity is even listed in the top two depositories (CDSL and NSDL) concerned with security dematerialization and management.
SAG RTA - Rajasthan's 1st RTA service provider
SAG RTA Registrar and Share Transfer Agent function with the aim of providing effective RTA services all over the nation. The objective is the client's convenience and satisfaction whether it is the investor or the mutual fund house.
The department has an upper hand in handling investor's transaction details, presenting accurate data to the authorities, mailing, providing assistance related to mutual funds and a lot more.
Our professionally trained staff (comprising of tax experts, CA, CS, etc.) is all set to reach out to its clients with solutions to any issue related to mutual funds. The department has a sufficient number of Registrar and Transfer Agent specialists working dedicatedly to provide the best RTA solutions to its potential customers.
Being a newcomer in the RTA ring, the company is striving hard to give the best of its services to its valuable corporate clients and become the nation's leading Registrar & Transfer Agent firm.
Services by SAG RTA
SAG RTA service is the one-stop solution to all your mutual fund related issues. The company's RTA sector serves the listed corporates and mutual fund businesses with large and quality investor database and in reverse helps the listed investors with lucrative investment opportunities. SAG RTA Registrar and Transfer Agent Service is entitled to be one of the most affordable yet premiums service providers in India.
Cataloged below are the services offered by SAG RTA: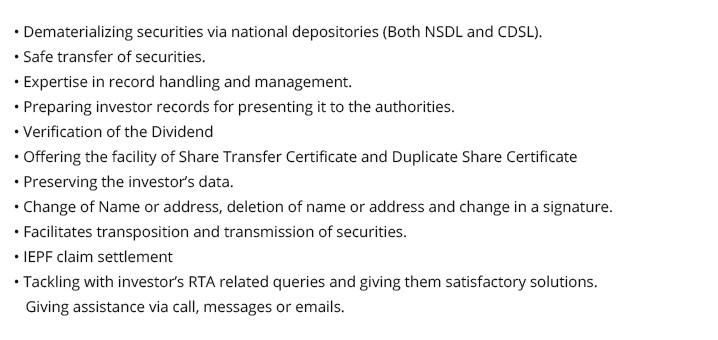 RTA services for Professionals (CA, CS, and others) and Companies:

Roles and Responsibilities of SAG RTA
SAG RTA is putting a bit extra effort because the department is committed to providing top quality, transparent yet affordable RTA Services to all its valuable clients.
Mentioned below are the tasks performed by SAG RTA in favor of its pan India clients: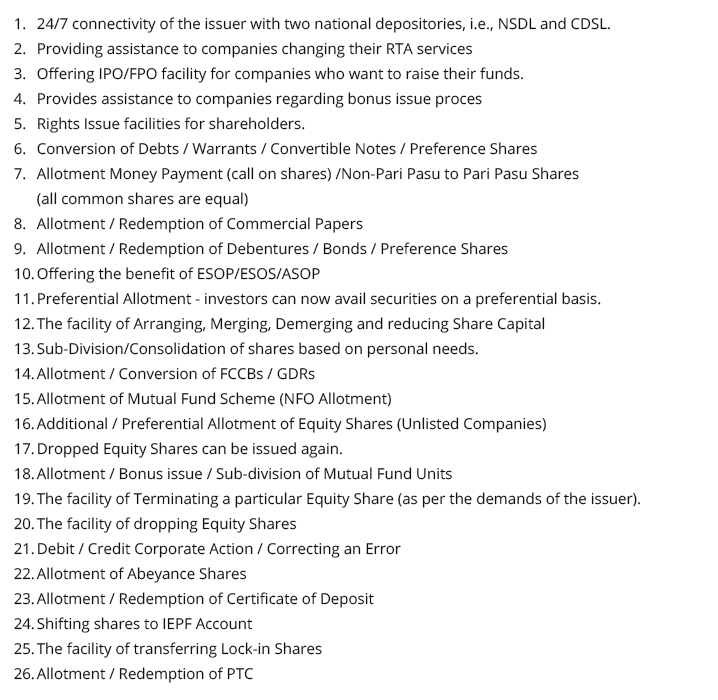 SAG RTA is gathering people's appreciation because of its quality service at a favorable price. SAG RTA is a professional's (CA, CS or others) first choice because:
1. It offers Top Notch RTA Services - The company's main motive is to deliver premium and unhindered services to its clients. SAR RTA is a preferred RTA service provider as it allows services with full security and transparency.
2. RTA Forms can be downloaded - Various mutual fund related forms or RTA forms can be downloaded via SAG RTA useful for investors as well as mutual fund houses to file their compliances. Forms are structured as per the SEBI protocols.
3. Anytime Connectivity with National Depositories - An issuer client gets connected to two major depositories (NSDL and CDSL) with a click on the SAG RTA portal. The company facilitates the all-time connectivity to the issuer with NSDL and CDSL.
4. Separate Dashboard Facility - The feature is for the professionals or the companies who require to manage their ongoing Registrar & Share Transfer Agent related activities while keeping track of their previous records.
5. Premium yet Affordable RTA services - A satisfied customer always turns back. With minimal profit margins, the company works just for the satisfaction and convenience of its clients, therefore providing services that are not harsh on the customer's pocket.
6. 24/7 Expert Support - All the clients whether they are investors, professionals or companies can anytime avail RTA related assistance from our expert team via call, messages or emails. Our expert team is just a call, messages or email away from the clients. Apart from this, RTA documents submitted by the clients are thoroughly verified by our RTA experts. The company is even responsible for safeguarding the information provided by its clients.
7. Updating Client Records - The information rendered by the client is regularly updated. Investors make transactions on a regular basis which needs to be updated in RTA records, change in name, address or signature or any other relevant information. Regular record updating will eliminate the chances of any mismatch or default.
8. Media Publication and SAG RTA - Since the day SEBI qualified the company to be Rajasthan's 1st RTA service provider. SAG RTA is traced by some of the renowned newspapers like Dainik Navjyoti, Punjab Kesari, Business Remedies, Daily News, Nafa Nuksaan, Rajasthan Patrika, etc., these papers even have an editorial column separated for the news exclusively from SAG RTA.
SAG RTA - An asset for CA and CS professionals
SAG RTA is a much reliable source of availing RTA services in India. It is a client-centric interface and offers facilities at the most convenient rates.
The company with the help of digitization is giving the best of its efforts in enabling a user-friendly RTA platform for its clients in the RTA industry, including distributors, mutual fund houses, investors, etc.
SAG RTAs digital platform is an enhanced user interface that serves as a single-window solution to all types of RTA Services. Now creating ISIN and tracking the download status of any RTA related form or document is easy via SAG RTAs official portal.
The table given below depicts the details of the documents required for ISIN creation for shares at CDSL and NSDL: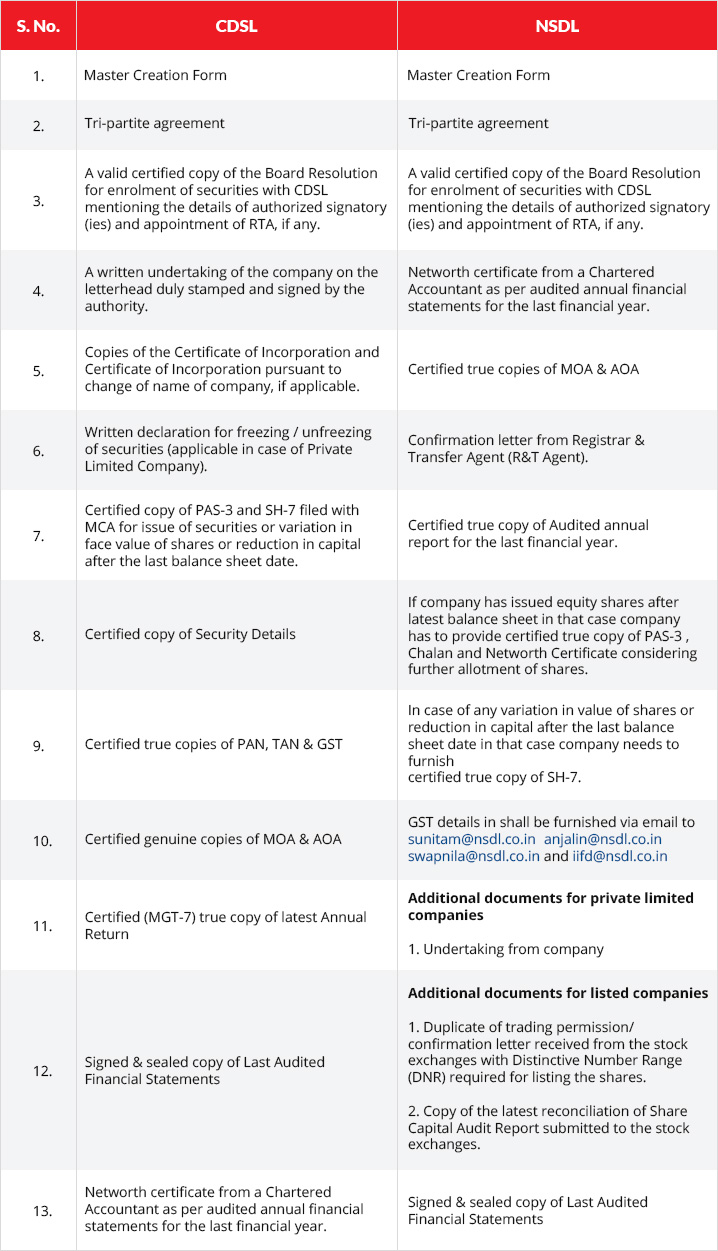 *Note: All the aforesaid documents shall be signed & sealed by any or all the persons authorized in the board resolution by the company.
FEES TO BE PAYABLE TO CDSL & NSDL FOR CONNECTIVITY:
Unlisted Companies: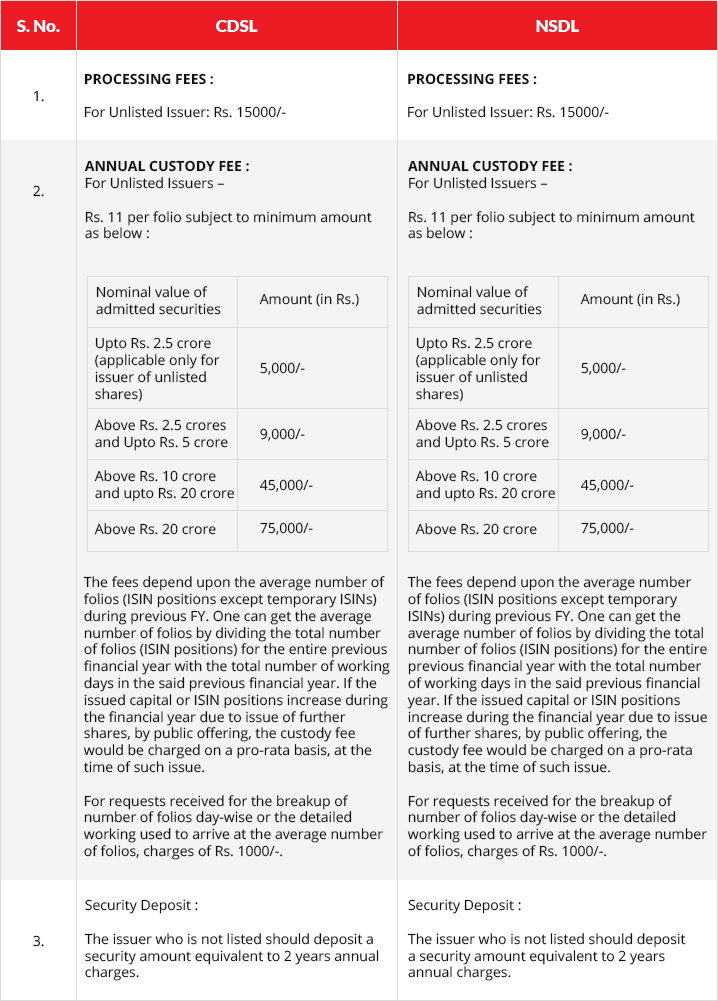 *
Listed Companies: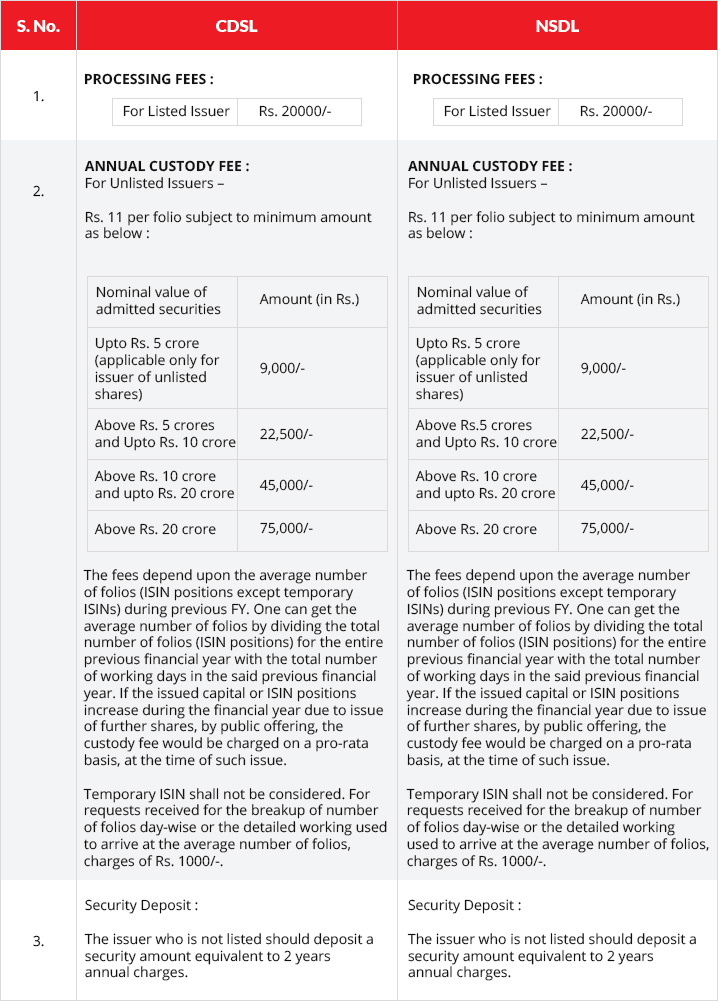 List of Charges Applicable for Hiring SAG RTA Company for Professional RTA Services: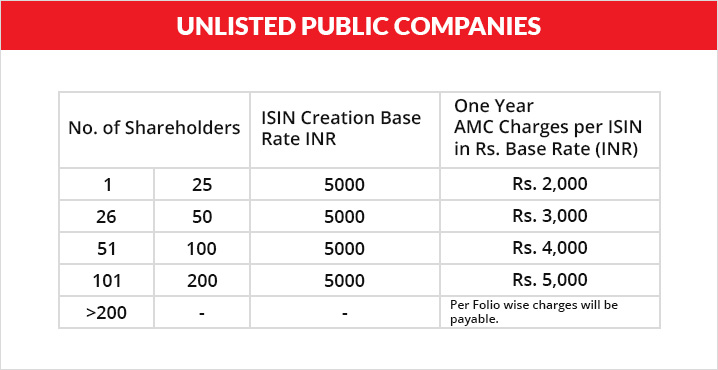 page revision: 7, last edited: 02 Dec 2019 06:25